The Rider series is the most versatile PPG line available today.
Every improvement on today's Rider sets a higher standard, and its versatility creates great value.
Its versatility makes it its real strength. It can be installed on multiple Trikes, from the Foxy mini trike to larger Trikes such as the Flash Trike that also allows for tandem flights, and on the Vertigo Trike, a super stable and sturdy single-seater.
The Rider allows all levels to enjoy the freedom of flight, from beginners to world champions.
It offers multiple engines for every pilot's needs.
Constructed of aluminum with self-tempering welds for high mechanical strength. Our frame ensures the best weight-to-strength ratio
The weight of the ready-to-fly PPG starts at 25.6kg in manual version with 130 single hoop frame.
All our products are Made in Italy, designed, built and assembled from us. We make attention to detail our strength
RMZ 500 twin-cylinder with single belt reduction single ignition forced air cooling pedal throttle as standard.This 500 cc twin-cylinder engine is the best compromise for fuel consumption, thrust and weight.
The power of this engine promotes short takeoffs and excellent climb rate even with a pilot and passenger of considerable weight. Also recommended for medium-experienced pilots for intensive tandem flight use.
Equipped with the belt reduction, and electric starter. This reduction was fully developed and tested by our team. Made with an ergal backing plate and aluminum pulleys, the 25-groove polyV belt is tensioned through a very strong eccentric shaft system where the upper pulley works on two bearings.
Eco Light Cosmos 300
This trike, originally designed for bigger and powerful engines such as the Rotax582 and RMZ 500, has also been very popular with this 300cc water-cooled single cylinder engine, small and light with low fuel consumption and easy maintenance.
We can recommend this engine, frame and 160 cm propeller combination to anyone who wants to start flying tandem while sharing a truly unique emotion.
It comes to you with standard manual throttle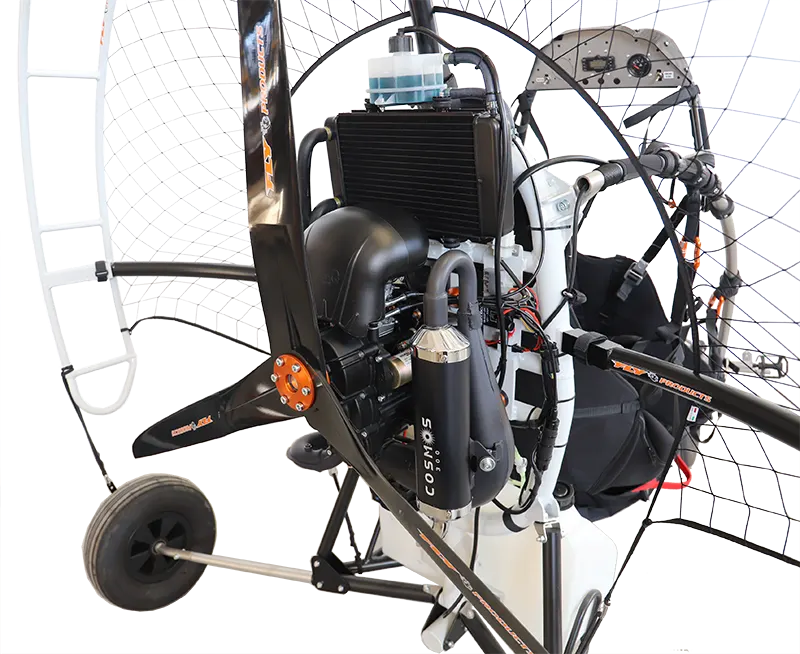 Eco Light Rotax 582
This version is the most powerful of the Eco Light series, with a 582 cc water-cooled twin-cylinder Rotax engine, standard pedal throttle, it is the top of the line. This engine has been on the market for years earning a reputation for great reliability with a service network that expands worldwide.
We now have the option so you no longer have to worry about making the mixture you will put the oil in the appropriate container and the gasoline in the tank. This system optimizes oil consumption/mixture based on engine rpm. You will no longer have problems with old mixture left in the tank.
Clutch 582
Developed by Fly Products the centrifugal clutch for the 582 engine creates important advantages on several points:
Stationary propeller with engine idling and very low vibration.
Stationary propeller prevents accidental wing inflation.
Clean rpm delivery from low rpm.
With this version, it is possible to use the WING PROFILE protective hoop without the protective net.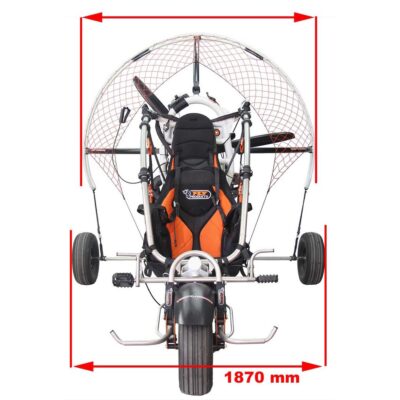 The cockpit, positioned in front of the pilot, is for immediate access without obscuring the view in flight.
It can hold a wide range of engine and flight instruments. It is also equipped with A-assist, which during takeoff keeps the glider in constant traction, keeping it stable, for a safe takeoff.
It is possible to fold it forward, reducing the height of the trike for those who need to transport it in vans or trailers.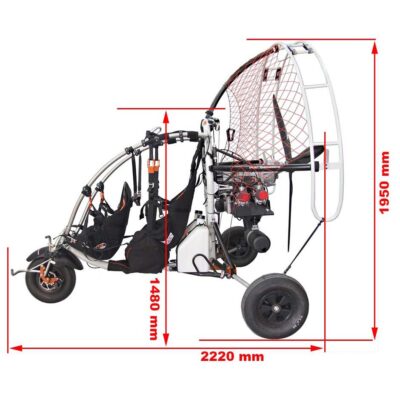 Have questions? Feel free to write us